The Future of Office Design | Trend 2: Quiet, Semi-Private Spaces

Trend 2: Quiet, Semi-Private Spaces
In this series of Q&A blog posts, we're exploring emerging office design trends with Miller's Interior Designer Carolann Blanc. Carolann explains why the hottest trend in workplace design is Quiet, Semi-Private Spaces – and how to make it work for your office space.
Q: What are Quiet, Semi-Private Spaces? Why have they become such an important trend in office design?
A: Quiet, Semi-Private Spaces are areas where individuals can get away from their immediate work area and do focused work. I think the reason it's become important is with the advent of the open office – it can be very distracting. Some personality types, like introverts, don't really work well in an open office so it can be a great place for introverts to get away and do some heads-down work. While the open office is designed to promote collaboration, a Quiet, Semi-Private Space can help individuals do focused, quiet work as needed.
Q: Does creating Quiet, Semi-Private Spaces come with any inherent challenges that need to be managed?
A: The problem Quiet, Semi-Private Spaces solves it that it allows for quick team meetings. It allows for focused work for individuals. Over 50% of our office design requests are for reconfiguration of an existing workspace. In trying to create a nice workspace for employees, companies may face challenges like knowing where to allocate a Quiet, Semi-Private Space within the office. We've found that once Quiet, Semi-Private Spaces are introduced, they can be so popular that they're overused. A way to resolve that is to use technology, like Microsoft Outlook, to book the space and manage its use.
Q: Which manufacturers are the most innovated when it comes to Quiet, Semi-Private Spaces?
A: Trendway has unique movable wall solutions. However, almost all manufacturers today have some type of Quiet, Semi-Private Space solution in their product offering.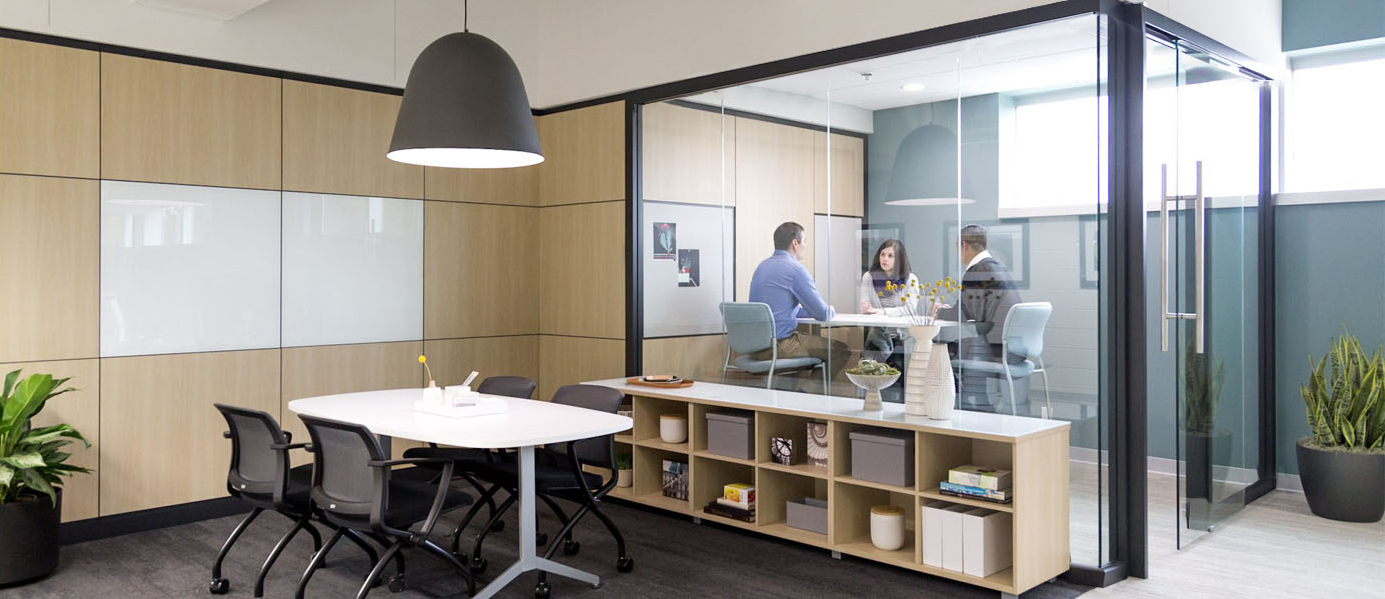 Framery has created a phone booth which is popular. It can be for individuals to get away and make a quick, private phone call. Or it can be used for 2-6 people for a small meeting. It's totally enclosed space and it's starting to get traction in the design industry.
Q: If a company is considering creating Quiet, Semi-Private Spaces, what's the best advice you would offer to help them be successful in implementing a solution?
A: In any design project, it needs to be properly analyzed before purchasing anything. Knowing what your company's needs are is always first and foremost at Miller's. Being versatile in the design is also key.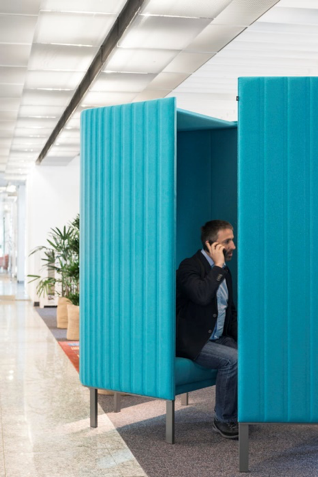 For example, a Quiet, Semi-Private Space might be created with existing furniture or by purchasing additional items to complement the furniture already in place. Quiet, Semi-Private Spaces can be a relaxing lounge area or an informal meeting space. Even modern-day wingback chairs are finding their way into office design because of how the architecture of the chairs can create a Quiet, Semi-Private Space for an individual.
Q: Can you share any favorite examples of clients or companies you have seen who've successfully incorporated Quiet, Semi-Private Spaces into their office design?
A: One of Miller's clients is Water Environment Federation (WEF) in Alexandria, VA. We helped them to retrofit their lobby into a multi-functional series of quiet spaces for employees. They didn't have anything other than workstations, offices and large conference rooms. They needed spaces where employees could get away for small meetings and begin multi-functional. We created individual areas where 1-2 people could sit, along with high-top tables near windows for natural lighting and the benefit of looking outdoors. We also created lounging spaces to give them a variety of Quiet, Semi-Private Spaces within a single area.
If you have questions for the Miller's Team, contact us about your interior design and office space planning needs.

Written by Miller's Business Interiors
Headquartered in Virginia, and also supporting the larger Washington DC area, Miller's Business Interiors provides the design, space planning, project management and furniture you need to create a stylish, productive and comfortable environment. From humble beginnings in 1971 to nationwide coverage offered today, we support you with a dedicated and experienced team, flexible solutions and personalized attention that ensures you'll feel like our only customer.