NeoCon 2019: Four Emerging Office Design Trends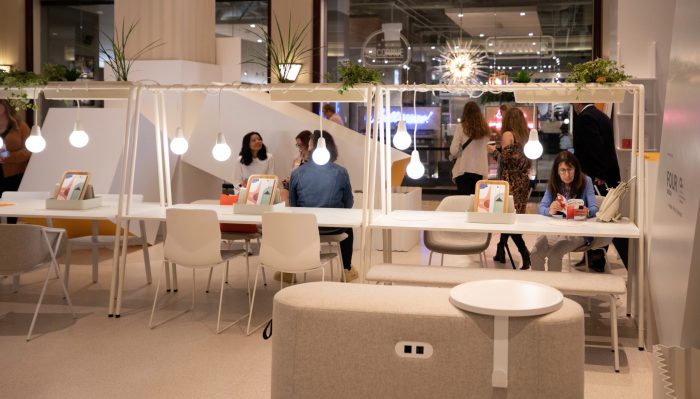 Each year, the team at Miller's looks forward to attending NeoCon at the Merchandise Mart in Chicago. It's an annual gathering place and launching pad for the commercial design and business interior world's manufacturers, dealers, architects, designers, end-users, design organizations and media. Here are four trends that dominated the conversation at NeoCon 2019.
Trend #1: Benching
Photo credit: HON
Benching has become a popular trend because companies are looking for better ways to leverage office space, increase collaboration, and allow for greater flexibility while saving money. Typically, "bench-like" desks can accommodate more than one person at a time while also reducing the footprint per person. It's especially flexible for workers who may not be in the office all the time.
But when choosing benching workstations, you can't completely do away with the idea of privacy. Most workers will find it helpful to have designated areas specifically for privacy, where they can step away to make a personal call or have a scheduled meeting.
Trend #2: Height-Adjustable Desks and Tables
Commercial design continues to grow more and more human-focused. Sit-stand desks and height-adjustable tables promote a healthier workspace because they allow for customization for how the individual worker wants to work – and the ergonomic comfort of the user.
A recent year-long 'Stand Up to Work' study found that height-adjustable workstations helped with productivity, concentration and improved overall health.
Trend #3: Floor-to-Ceiling Space Division Solutions

While open office plans have many benefits, more and more companies are beginning to miss the privacy and focus that dividers and barriers allow. So many businesses are embracing a hybrid design: One where some employees can flourish in a communal environment, while others need the privacy of a more separate workspace.
Screens and panels, of varying opacity, introduce vertical surfaces to separate spaces, control views and provide privacy. Workspace areas may further be differentiated through color, material and texture to create unique environments – each with a special purpose and appeal.
Trend #4: Quiet, Semi-Private Spaces
Perhaps the most dominating theme at NeoCon2019 was semi-private spaces for individuals and small groups to gather for alone time in the office or private conversations. Acoustically insulated phone booths popped up in many of the showrooms, providing a space for workers to take private calls. Most of these phone booths included individual workspaces with a counter, electrical outlet and task lighting.
Meeting pods stoo
d out at NeoCon2019 as the new semi-private workspace. Why have meeting pods become so popular? Research shows it takes an average of about 25 minutes to return to a productive task after an interruption. Workers are far more productive when given the flexibility to move between open workspaces and semi-private spaces.
Contact the Miller's Business Interiors Team for more insights into these emerging office design trends, or for a free consultation to help with your office design needs.

Written by Miller's Business Interiors
Headquartered in Virginia, and also supporting the larger Washington DC area, Miller's Business Interiors provides the design, space planning, project management and furniture you need to create a stylish, productive and comfortable environment. From humble beginnings in 1971 to nationwide coverage offered today, we support you with a dedicated and experienced team, flexible solutions and personalized attention that ensures you'll feel like our only customer.